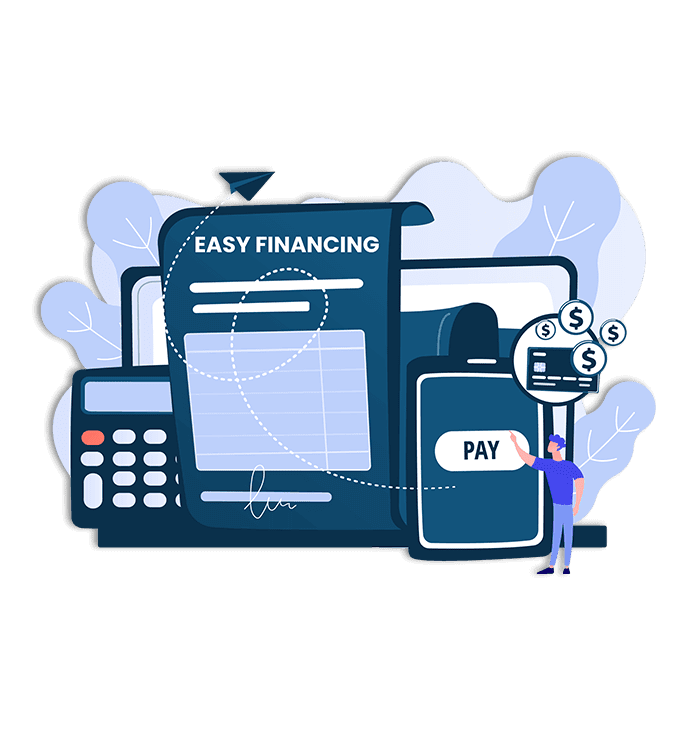 If you are not fond of paying all the money upfront, let us offer you a plan with small monthly payments for the wireless equipment. For your unlimited wireless internet connection, finance your equipment through BreadPayments, a convenient and straightforward way to buy what you want immediately and pay later.
Choose Your Perfect Plan
.
Do you want to get the best unlimited wireless internet provider in your area? Let's have a look at our plans and see what we've got for you? Comlink Internet offers multiple plans for the customers. You can decide your plan which relates to your zip code and connects to the cellular towers.
Comlink Unlimited Wireless Internet Package
If you are looking for contractual and non-contractual internet service, Comlink's unlimited wireless internet package is right for you. This service offers the fastest speeds in the country with no data caps or monthly minimums. It also has several price plans that are flexible and perfect for your needs. Here are some of the advantages of this plan. You can get your internet service now with no minimum usage or contract, and enjoy it for as long as you want!
No monthly minimums
With no contract, no credit check, and unlimited data, Comlink's unlimited wireless Internet service is a perfect choice for many people. Its unlimited service is faster than other high-speed wireless Internet providers, and it's affordable enough for anyone. Unlimited data and voice are included with every plan, and there are no over-usage fees or contracts. Comlink's unlimited wireless internet service is the best choice for people who live in rural areas but don't want to be tied to a monthly minimum.
With Comlink's unlimited wireless internet service, you can choose from three packages that don't have monthly minimums or data caps. The company will search your address and create a package for you. You can also choose to sign up for a free trial if you'd like to see how much bandwidth you'll be using each month. The service also includes free home phone service.
If you live in a rural area without cellular towers, Comlink's unlimited wireless internet service will be your best option. It also provides no-contract service and offers the fastest speeds in rural areas. Comlink also offers unlimited voice and TV service. However, it's worth remembering that the service can be slow and may experience glitches from time to time. If you need more bandwidth, opt for a higher speed plan.
No monthly data caps
If you're looking for a wireless internet plan with no monthly data cap, Comlink's unlimited service might be for you. Its plans include free home phone service and no credit check, making it easy to pay every month. The best part? You can cancel your plan whenever you want. Plus, you won't have to worry about a credit check, so you can cancel anytime you'd like.
One of the best things about Comlink's unlimited wireless internet service is its flexibility. You can choose between a variety of voice and data plans, and you can choose the best one for your needs. Unlike other companies, there are no monthly data caps or contracts, so you can use the service on as many devices as you need. And because there are no monthly data caps, there's no risk of running out of data.
Another great feature is the speed. Comlink's unlimited home internet service is available in rural areas, which is important for those who need to stream movies or play games. With speeds exceeding 40 Mbps, Comlink's unlimited wireless internet service will get you through your daily tasks. There's no limit on how much you can download or upload, either. The best part is that there's no contract and no data cap. If you're not sure about it, you can try out the unlimited service for 30 days for free to see if you're happy with it.
Contractual and Non-Contractual
With Comlink's unlimited wireless Internet service, you can enjoy no-contract access to your favorite online services with no credit check. You can enjoy unlimited data, voice, and television service with this contract-free plan. Unlike other providers, Comlink offers no contracts, no monthly fees, and no long-term commitments. In fact, you can start using this service right away with a free trial.
Unlimited wireless internet service is perfect for rural resident who wants to keep their costs low. Unlike other companies, Comlink offers service without a contract, allowing you to choose the speed that suits your needs. Plus, you can bundle your wireless service with cable TV to get unlimited data for less. Comlink also has two plans that provide more data. For a single person or household with small children, an unlimited plan is the best option. Larger households can opt for a faster plan with more data and higher download speeds.
Unlimited wireless internet service is great for both households and businesses. Comlink offers two plans that are easy to set up. You can change your plan as often as you want. You pay for only the data that you use, and you can cancel anytime you wish. Unlimited wireless Internet plans come with no contract or overage fees, making them a convenient and affordable option for home Internet users. It's also convenient to have a reliable wireless connection wherever you go.
ComLink is one of the top unlimited wireless internet providers in the rural US. Although, the prices, speeds, and availability will differ according to the place you live. Therefore, it has packages and plans designed according to consumers' needs. ComLink offers multiple plans for the customers and you can select any as per your needs. On the other hand, they have plans for residential and for business purposes also.
If you want a serene experience with internet service, ComLink is your best choice. Easy to install without compromising the décor of your homes or offices. The plans are budget-friendly and won't let you spend a fortune. We have some contractual and not-contractual plans that offer complete flexibility. You can afford the internet devices at a very reasonable price which others don't offer.
The issue that everyone is thinking about right now is unlimited wireless internet access. As a result of developments in technology, formerly underserved places, such as rural communities, are increasingly receiving wireless services. In addition, the government has moved its priority to offer internet connections to the majority of rural communities.
People have been facing the data caps headache for a very long time. We have worked a lot to bridge this gap and made it possible within everyone's reach. Rural Citizens are now getting internet access without the limitations. This is a blessing for them and it is helping them a lot in many ways.
The good thing about Comlink is that it is available all over rural areas.
Select The Best Option
How does the wireless internet operate? It's a high-tech method of getting online. Unlike traditional wired systems, they rely on radio frequencies to carry data through cellphone towers to the targeted device. A router carries the information and transfers it to the main point (A cellular tower). It is a to-and-fro method. This enables users to gain access to the internet. On the other hand, these internet connections are very simple to set up and don't need any changes to your network architecture.
Let's talk about some wireless internet types we are providing,
4G LTE
HOTSPOT CONNECTIONS
Starting with the fastest one,
5G Internet
ComLink providers are now giving lightning-fast internet to consumers. It is the best, you will forget the rest. Its 5G ultra wideband comes up with an ultimate high downloading and uploading speed. Also, it can support multiple users at a time and won't be a pain for the user. The best thing is that you can enjoy this ultrafast internet with Unlimited data caps. That means you should go full throttle with your data usage.
Certainly, this new generation of mobile internet acts the same way as other cellular internet does. Carries data through the air, and also uses radio waves that are much more efficient. It is a new face of wireless high speed internet. It will be a key invention to bridge the digital divide. 5G internet is the fifth generation of the internet.
Its predecessors bump into some objects, and walls while carrying the signals, it won't. To complete this dare, 5G unlimited wireless internet will use various transmitters to carry the data without any interruption.
5G is overall better than the previous cellular connections. 4G/4G LTE is a great option and a successful option also, the next one is always a better one. The main difference between 5G and others is the "speed". The faster the download speeds are, the happier a user would be. On the other hand, we got to know about the speed of this upcoming beast.
A blazing fast speed from 1 Gbps up to 10 Gbps we can expect.
We may anticipate a fresh broad selection of gadgets with 5G mobile broadband. Those will be smaller and lighter in loads. All of these items have the potential to dramatically increase the quality of our lives. It will be a boost for us in different sectors. For instance, Healthcare, Education, Agriculture, Banking, Media, energy utilities, real estate, and transportation.
4G LTE Internet
It takes data from the sender, transfers it through the air (Radio Waves), and then reaches towards the router. When the router receives the data, then the user can access the internet easily.
It is the fourth generation of cellular internet connections. This is a predecessor of 5G internet. This unlimited high-speed internet was pretty much successful and is available almost everywhere. 4G LTE internet is a wireless cellphone internet that doesn't require any cable or any other physical connection. It can average a speed up to 30 Mbps and can go up to more than 100 Mbps. That's a good one if you want to experience fast internet.
This is a good choice for rural areas. It has been improving the lives of people who are struggling with other connection types. It isn't that much expensive. Above all, paying extra little bucks for much reliable internet won't let you empty your pockets.
ComLink Internet has solutions to all your internet problems. Check out the plans for the best 4G internet plans and select the one according to your usage.
Will 4G will be entirely wiped out after the introduction of 5G?
The answer is "Not yet". It will take years to 4G to completely disappear from this world.
Hotspot Connections
These types of connections enable the internet on your gadgets when people are in a mobile state. Without phone coverage, they are totally worthless. It is necessary to have the cellular service if you want a Wireless internet service. Therefore, you need to have a data package to enable this internet option.
It is available almost everywhere. For instance, in the areas like large business firms, hospitals, educational institutes, agricultural sectors, and building and construction. The hotspot connectivity is given through 4G/4G LTE and now with 5G Internet. With 4G the average speed you can receive is around 40 Mbps.
On the other hand, with 5G, you can receive a mammoth speed of 1 Gbps in some designated places. ComLink internet has been a great provider of hotspot connections. With the success of other plans, our hotspot connectivity also got hype from the users. We are giving all types of wireless internet because we care for the people and respect their needs.
For example,
It is available on almost every cellphone. You turn on this option, and it creates a wireless internet hotspot with the help of your mobile data. This high-speed internet sharing allows you to connect to more than 5 devices at the same time. Also, depending upon your data package, you can add keep on adding more devices. It is a good option if any other connection type is not available.
ComLink is providing a good cellular hotspot connection for its customers. The prices and plans could vary according to your location. It is the right choice for those who are mostly out for the work. Constant reliable internet access is their sheer requirement.
5G Hotspot
It gives you hotspot access through a 5G connection. This isn't that much available at the moment, but it is now. Also, we already know that it will be providing us with a super-sonic speed. It can connect more than 5 or 10 devices and won't slow down. The reliability and great firepower will allow better usage for end-users. ComLink internet is now giving its 5G internet services along with the other packages.
This internet is brought to close the gap between the urban and rural areas. Now, rural citizens will be able to compete in all sectors. People will get a lot of benefit in healthcare, education, small or large businesses, agriculture, and many other sectors. ComLink is providing 5G services for those who don't want to leave behind. We will be covering all of these sectors to make rural areas rich with the progresses they lack.
Fixed Wireless Internet
A type of internet that uses radio waves to carry the data from an access point to the end-user. This doesn't use any kind of cable or landline for internet service. It uses an antenna to receive signals from the access point and deliver it to you (A wireless point on nearby towers). It provides a high-quality reception because it doesn't disperse the signals.
These are the antennas that are large in size. Not like you have seen at your wireless routers. They are specially designed to tackle the issues such as weather conditions, distant locations, and frequencies.
The signals are caught directly by your device. Therefore, you receive a high speed all the time. They are cheaper than other equipment e.g. cables. The service providers don't have to put holes in your house to set up a connection. They are simple and easy to install.
Factors to Look in Unlimited Wireless Internet
Considering the best internet with an unlimited plan is always a difficult job. You need a great plan for yourself, and if you get the unlimited package plan, it's a jackpot.
It isn't a luxury anymore. Comlink Internet has been providing the ease you need with the best packages for a long time. You can visit the Comlink website and can select one of our packages that suits your routine work.
Speed
The major factor which you have to look at while choosing a provider. Wireless Internet is the best, is not interrupted, and it provides high speed. Now, with the invention of 5G, you should try and look for it. Comlink is providing 4G/4G LTE and also, 5G internet with a very minimal price range and with better speed than others. So you guys better go with 5G on priority. When it comes to selecting an internet service provider, the majority of customers rank download and upload speeds as the most significant criteria. The speed of our internet connection is an extremely important factor for those who work from home.
People that play video games online are also interested in higher download speeds. They just cannot afford to have their business meetings disrupted by slow or unreliable internet connections. They typically look for the internet provider that has the fastest speeds accessible in their area.
Your physical location is the single most important factor that determines the speed of your internet connection. Bandwidth is constantly compared by users, which might have an effect on the speeds provided by your provider.
The amount of data that a transmission system is able to take in over the course of one second is referred to as its bandwidth. After setting up your connection, Comlink will satisfy you with the speed test and full support all the time with responsive support agents.
Pricing
Wireless internet services have variations in prices depending upon the area. Everyone is providing services at different prices in different locations. Comlink internet has designed the packages and plans to keep people in its mind. So you people shouldn't worry about the price and choose a plan according to their usage.
The price of internet connections varies not only according to the kind of network used but also where in the world you live. Establishing a spending limit for your internet service is the first and most important step you should take before making any purchase. As was said earlier, the cost of using the Internet might vary depending on the type of service. The costs of internet equipment and installation vary widely depending on the type of internet service being utilized. Because it just requires a portable router, cellular internet eliminates the need for any other kind of hardware.
Comlink is providing the best prices with super-sonic speed. The main thing about them is that they are available broadly in rural areas.
Technical Support
One of the major factors that mostly go unnoticed. If you get a connection, but below-average technical support, it'll be a big blow. You are not able to tweak or adjust the setting yourself. Most companies don't provide you with proper guidance. Often they don't receive your calls also, they and are late in responding back. ComLink isn't like that. The customer reviews are the answers to your questions. The 24/7 customer is second to none. They sit tight and solve your issues with the brink of an eye. So customers highly recommend this provider to solve your issues in a flash.
Unlimited Wireless Internet: All over rural areas now
While looking for internet service, make sure you checked the speed, plans, and reliability. Above all, unlimited packages would be the best shot. If not, that will keep wasting your time. Time is everything and with all the key points, you are carefree. You won't be interrupted in your work. The fear of overpaying for data caps will no longer bother you.
Choosing the best and most consistent internet service is now easy. Contact one of our Customer Support Agents and provide them with the Zip-Code. They will give you all the details and help you with all your queries.
Comlink internet has all the factors that you find while choosing its internet package and plans. They are in everyone's talk now. All the internet options are available under one roof. It is possible to get it everywhere in rural America. We made it possible for you. You just have to ring the bell and get your needs fulfilled in no time.
FAQs
Does ComLink Internet offers Unlimited wireless internet all over the USA?
ComLink has been providing Unlimited wireless internet in all rural areas. Get in touch with us and we will be more than happy to resolve your issues and it will be an honor to have new customers on board.
What about the contract process?
Comlink offers contractual and non-contractual packages for its honorable customers. You may choose between month-to-month and contract subscriptions as well. Give us a call now and find out how much better the internet can be.
Why Comlink is the best option for Unlimited wireless internet?
We are providing services in all over rural America. We have affordable packages and plans that suit all of your needs. Also, superfast internet speed without any interruptions with advanced equipment specially designed for elite performance.
Which of the Comlink's plan is best for me?
Comlink have several plans that you can select. Also, enter your postal code into the Zip-code option and check the availability of our plans in your area.